DR. EDNEY NAMED AS 2022 DELAWARE PRINCIPAL OF THE YEAR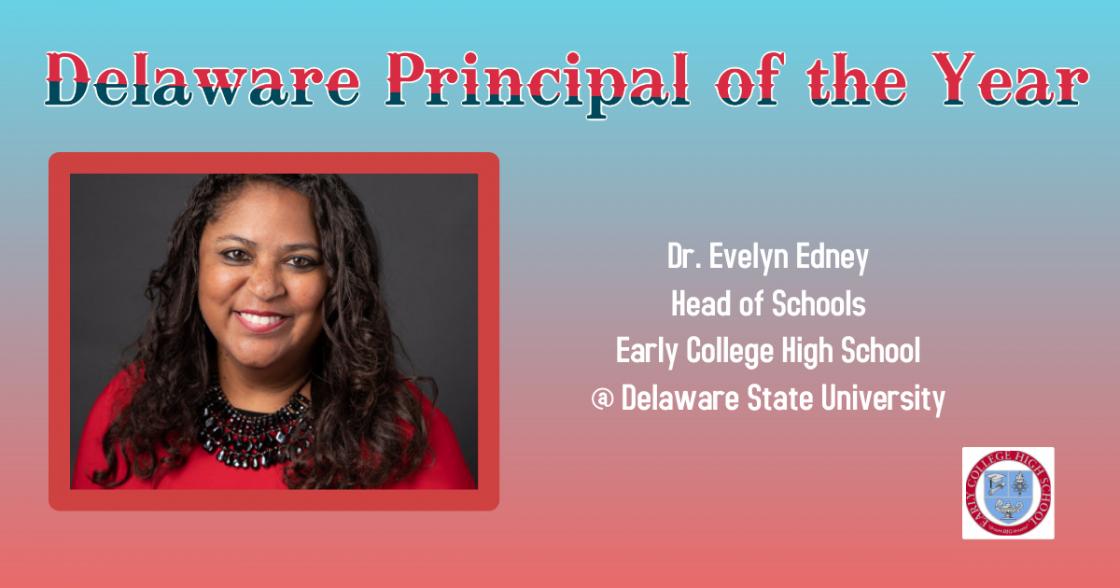 The Delaware Association of School Principals has named Dr. Evelyn Edney, Head of Schools of the Early College High School at Delaware State University, as the 2022 Delaware Principal of the Year. As the Delaware honoree, she will compete against other state-level awardees for the National Principal of the Year award given by the National Association of Secondary School Principals.
Dr. Edney is the second director of the ECHS, assuming the school's top post in 2015 one year after its founding. Since then, she has overseen the graduation of the first three graduating classes of ECHS students – which totaled 201 graduates.
While some of those graduates went on to be accepted in universities across the country, more than half of them stayed in the First State to enroll at Delaware State University. And because ECHS students also take college courses and earn the credits for them before they receive their high school diploma, three from the ECHS Class of 2018 have already graduated from Del State.
Under Dr. Edney's leadership, the ECHS boasts a high school graduation rate of 90% over the last three years.
Dr. Marsha Horton, President of the 13-member ECHS Board of Directors, expressed great pride in the honor for Dr. Edney. "As the President of the Board for the Early College High School, as well as the parent of an ECHS student, I know firsthand that she is an amazing school leader – academically gifted; a passionate advocate for all things 'education'; a wonderful motivator of faculty, staff and students; and a valued colleague," Dr. Horton said. "We are proud to claim her as the leader of our school!"
Dr. Tony Allen, President of Delaware State University, said the statewide recognition of Dr. Edney is reflective of the high school she leads. "It is a high honor and indicative of the Early College High School's quality offerings and Evelyn's tremendous leadership," the University President said.
Dr. Edney said that she is "completely overwhelmed and humbled" by the honor, but also noted that the ECHS faculty and staff deserved some credit for the award. "A leader is only as good as the people around them, and I have the best supporting cast that there is," Dr. Edney said. "They are truly the hardest working staff on the planet."
The honor will further enhance Dr. Edney's well-known reputation, which extends far beyond the ECHS.
Dr. Edney is currently the President of the Delaware Association of School Principals as well as the Delaware Women's Alliance for Sports and Fitness, a board member of the Delaware Association of School Administrators, the Delaware Interscholastic Athletic Association, and Bishop Conwell Egan Catholic High School (Philadelphia, Pa.), as well as a member of the Redding Consortium, the NASSP National Student Leader Advisory Committee, and the Zeta Phi Beta Sorority, Inc.
She is the past recipient of the 2017 Delaware NAACP Education Award, the Delaware Charter Network's 2019 IDEA Award, and the 2019 National Charter School Community Service Award.
The NASSP National Principal of the Year program recognizes outstanding middle level and high school principals who have succeeded in providing high-quality learning opportunities for students as well as in demonstrating exemplary contributions to the profession. From these state winners, three finalists are named as contenders for the National Principal of the Year award.
The NASSP National Principal of the Year is selected from among the finalists. The decision for the 2022 National Principal of the Year will be announced during National Principals Month in October 2022.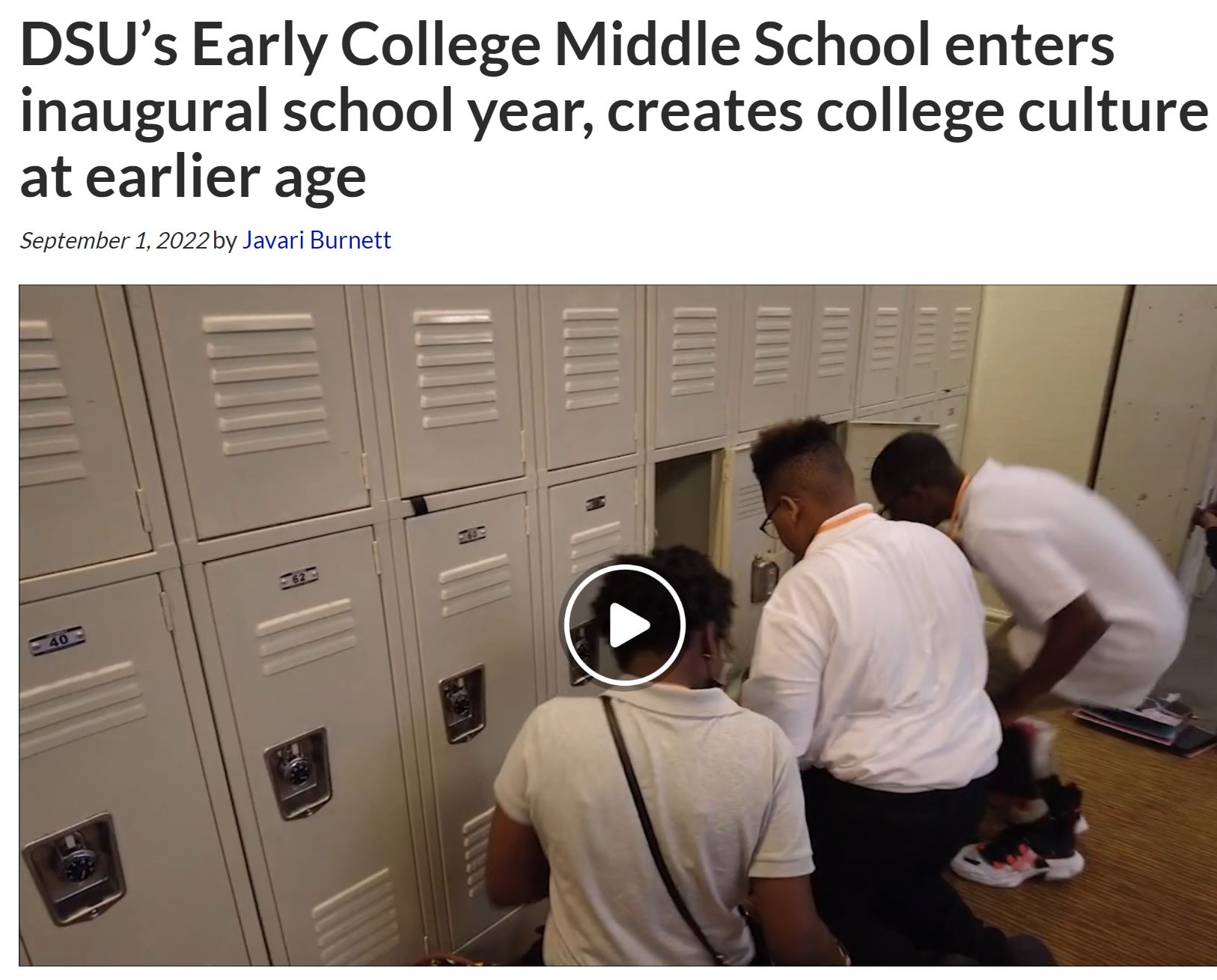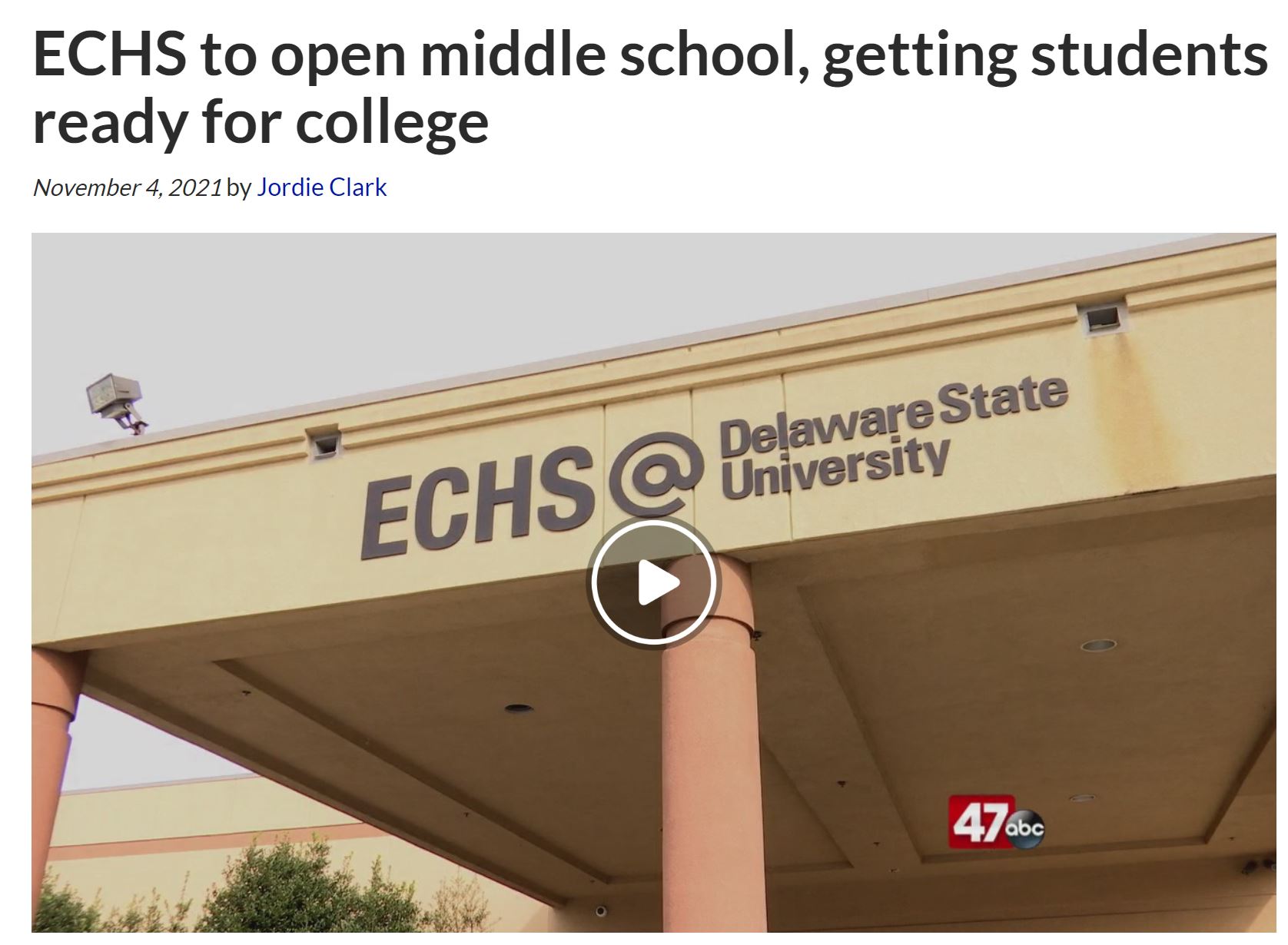 ECHS 2019 GRADUATE EARNS OVER $1 MILLION IN SCHOLARSHIPS
Originally published June 11, 2019 by BY ADAM HERMANN of the PhillyVoice Staff
Angelica Malone is heading to Pennsylvania's Albright College, but she had plenty of options
Angelica Malone, a 16-year-old in Delaware, received a combined $1.2 million in college scholarship offers, including four full rides, from 15 different colleges and universities.
The modern college application process is rife with stressing about being admitted, and then being able to afford a degree at your dream institution. For one Delaware high school graduate, the latter concern melted away in a mind-boggling pile of scholarship offers.
Angelica Malone, 16, who graduated from Delaware State University's Early College High School in Dover, received a combined $1.2 million in scholarship offers, including four full rides, from 15 different colleges and universities.
Incredibly, or perhaps just incredibly humble, Malone told the Delaware State News she didn't think a full ride was likely when she began applying to schools and for scholarships.
"Of all the applicants," Malone told the State News, "I was just so surprised they picked me."
Malone, who has five siblings, said she took her education seriously from a young age. She moved up to third grade as a seven-year-old; in high school, she took the SAT exam seven times in order to land the right score, the State News reported.
"There are people with better scores than me and better GPAs, but I think I just applied to the right schools," Malone said. "A lot of people want to go to Harvard, but they're not going to give you a full ride because it's so competitive."
Malone eventually made her decision, choosing the Warren L. Davis scholarship at Albright College in Reading, Pennsylvania, where she will major in psychobiology. The scholarship is worth more than $135,000 over Malone's four years in school.
According to data from the CollegeBoard for the 2017-18 school year, full-time equivalent students averaged $14,790 in aid from grants, federal loans, tax credits, deductions, and federal work study programs.
2019 Early College High School Graduates Celebrated
Originally published May 22, 2019 by Delaware State University
Delaware State University's Early College High School 2019 graduates attracted more than $6.1 million in scholarship offers and saved their parents tens of thousands of dollars in college costs.
The ECHS held its second annual Senior Awards and Graduation Ceremony on May 14 as 67 students completed their secondary school experience.
The Class of 2019 was prolific in taking advantage of the opportunity to take college courses during their ECHS journey, led by senior Esther Abiona, who has earned 66 college credit hours.
The academic diligence of the graduates resulted in an abundance of scholarship offers.
Ms. Abiona received a full scholarship and will continue her education at Delaware State University.
Dover senior Angelica Malone attracted the most scholarship dollars – $1.2 million from 15 different universities and colleges. She has decided to take advantage of a full scholarship to Albright College in Reading, Pa.
The ECHS Class of 2019 theme was "Our Story, Our Life, Our School," which Dr. Evelyn Edney, the school's director, said was fitting for this group of graduates.
"From the moment they arrived at ECHS, these students started out as an 'each.' Each one of them brought their own stories of where they came from, who they were, and what they wished to become," Dr. Edney said. "They brought their individual belief systems, values, wants, and desires. Slowly but surely though, they blended into the story of 'our,' the story of Hornets."
The keynote speaker was Dr. Tony Allen, University Executive Vice President and Provost, who noted that in addition to completing high school, nearly half of the graduating class will begin college as sophomores and juniors as a result of taking college courses while they were at the ECHS.
"You've taken not just the basics, like English composition, but sitting out there are students who have challenged themselves and succeeded at analytical chemistry, statistics, fundamentals of accounting, computer programming, anatomy and physiology… and so much more," Dr. Allen said. "You saved your parents $15,000-$30,000."
Dr. Allen urged the graduates to each focus on who they want to be, and to remember that "there is no you without us."
For Dr. Allen's full speech, please click the following link: https://youtu.be/b5XKTeYUVmo.
Matthew Ward, the Class Valedictorian – whose 4.71 GPA was the highest among the seniors – talked in his address about being a part of the early years of the ECHS.
"Not a lot of people know about the school from the outside, so from time to time, I would have to explain how it worked," Mr. Ward said. "Now it feels more like a school. There is a full set of grades, more teachers, more sports, and more student associations. The school came together."
Ms. Abiona, the Class Salutatorian with the second highest GPA of 4.5706, noted that people are surprised that she has decided to continue her academic journey at Delaware State University.
"All of us have the potential to obtain greatness, and I believe that at the end of whichever road we decide to take, we will reach success," Ms. Abiona said. "Delaware State University has become my home over the past four years, and I am genuinely excited to continue my journey here as a Hornet."
Ms. Abiona's ECHS academic excellence earned her a full scholarship to DSU.
Dr. Susan Bunting, Secretary of the Delaware Department of Education, was also in attendance at the graduation ceremony.
View a video featuring the graduates and the ceremony

Early College High School = High Expectations for All
Originally published March 23, 2018 by KnowledgeWorks

When Destiny King talks about her first year at the Early College High School at Delaware State University in Dover, Delaware, she mentions the pact she made with three fellow students in their first class on the college campus.
"It was trigonometry," King said on a recent call. "We said, 'if anyone asks us, we are 18 years old' – but we were 14. We looked like children."
But King and her classmates weren't treated like children – the expectations for all students in the early college is that they will work hard, take advantage of the resources that are available to them and graduate high school with a diploma and 60 hours of college credit. And King was committed.
"When I was little, my mom talked to me about how she started taking college classes at 16, and I wanted to do that," King said. "My parents taught me from a young age that college is very important and very expensive. So when I was walking in the mall and saw a sign that I could earn up to 60 free college credits, I jumped at the opportunity."
That opportunity has included networking, not only with her college peers, but with teachers and professionals. She's had an internship, and has appreciated that while her classes are challenging, her professors support her – they recognize her effort, and they're willing to work with her to see her succeed. King will be graduating this spring, and has plans to continue on at Delaware State University and finish her Bachelor's degree in Biology before continuing on to med school.
"My ambition has served me well, and it's served my classmates well, too," King said. She is excited and proud, and when asked how her parents feel about the fact that she'll graduate with 60 hours of college credit, she asked me to hold on a moment while she posed the question to her mom and dad.
When she returned to the line, her tone was amused.
"He said 'that's good' and my mom said, 'that's what's expected of you.' I think she's just joking."
A week after I spoke with Destiny, I received a call from her mother who had a story to tell me about Destiny.
"She saw a commercial for college when she was nine or 10 years old, and asked me if her father and I were saving, because she planned on going to college for 11 or 12 years," Destiny's mother explains with a laugh. The family began researching opportunities to alleviate the financial burden and give Destiny a head start – to support her in pursuing her dreams.
Because for King and her family, and many of her peers, it's about determination as much as it is about high expectations. That's the power of early college.
ECHS STUDENTS PARTICIPATE IN 2018 DSU NATIONAL SCIENCE FOUNDATION SUMMER RESEARCH EXPERIENCE!